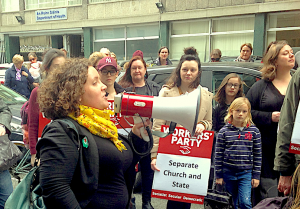 The Workers' Party have criticised comments made by Minister for Health Simon Harris today (Tuesday), who indicated that GPs would have a right to conscientious objection in relation to the provision of abortion in the future.
Cllr. Éilis Ryan (Workers' Party, North Inner City), said abortion needed to become an integrated part of normal healthcare practice:
"There is a clear recognition emerging amongst both the Irish people and government that abortion is a basic service which women should have access to as part of their healthcare.
"In that context, allowing for 'conscientious objection' by GPs suggests to women that an abortion is somehow unacceptable or immoral. Either its healthcare, or its not. We've already been through this in relation to emergency contraception, where 'conscientious objection' clauses mean many women have on access to emergency contraception in their local pharmacies."
Councillor Ryan said that freedom of religion and belief must always be accompanied by a responsibility on the part of public servants to leave religious beliefs outside their workplace:
"We live in a society which includes people of all faiths and none. Our publicly-funded health service – along with all other public institutions – must reflect that, by being entirely secular.
"Of course, everybody is entitled to freedom of religion. But when they enter a school to teach, or a hospital to practice medicine, or indeed the Dáil to write legislation, they must have an obligation to leave behind their own personal religious beliefs. That is what a truly secular republic is about."
Councillor Ryan concluded by saying that setting a precedent of 'conscientious objection' risked limiting access to many basic healthcare procedures in Ireland, saying:
"Regrettably, our healthcare system continues to be dominated by religious actors – in particular our hospital system. Allowing any element of 'conscientious objection' into healthcare would set a dangerous precedent.
"Many modern medical treatments, including stem cell based treatments and fertility treatments, are opposed by the Catholic Church. If we introduce the right to opt out of providing abortion to women, we can expect an increasing trend in opting out of many other procedures also."