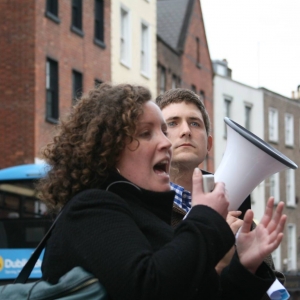 Calls for Dublin City Council to use a state company to develop its land instead of PPP
A city councillor has warned that Dublin City Council (DCC) is at risk of repeating the disastrous Public-Private Partnership (PPP) failures of the past, with a new multi-county 'bundle' approach to developing public land.
Cllr. Éilis Ryan (Workers' Party, Dublin North Inner City) was speaking ahead of tonight's (April 3rd) city council meeting, which will consider a proposal to grant the council's Chief Executive authority to establish a PPP for the development of multiple sites of public land across Dublin, Louth, Wicklow and Kildare.
Cllr. Ryan said
Dublin City Council management appear to be under to the illusion that, simply because they are leasing rather than selling their land to a private developer, the collapse of Public-Private Partnerships we witnessed in the past will not happen.

However, retaining nominal ownership of the land does not change the fact that, as soon as a private developer faces financial difficulties, the city council – and all those awaiting council housing – will be burned yet again. No technicality in the world can prevent this from happening.
The Workers' Party will be proposing an amendment to the initiative at tonight's meeting, which calls for a state company to be established to develop the sites in question.
Cllr. Ryan said:
Last week, a report from the Nevin Institute provided clear evidence that is entirely feasible to establish a state company which can borrow off balance sheet. Given this is the justification for the PPPs in question, why not take the public approach?
She concluded:
I am asking councillors to take a step back and consider all the available options – most importantly the possibility of developing our own land ourselves – before committing to yet another risky private venture.
Full text of the amendment proposed by the Workers' Party
In relation to Report 96/2017 (Report on a Proposed Section 85 Agreement Regarding the Provision of Social Housing via a Public Private Partnership under the Social Housing Strategy 2020);
– The council notes that EU debt rules do not automatically consider public borrowing to be 'on balance sheet' if done by a commercially viable state or semi-state company
– The council notes the failure of the government to explore the possibility of establishing a state or semi-state company capable of borrowing off balance sheet to build housing
– The council furthermore notes that such public, state companies play a vital role in the provision of social housing in numerous European countries, and their borrowings are not automatically considered on balance sheet
– The council recognises the negative role of the private sector in PPPs in the provision of housing in Dublin
– The council furthermore recognises the broad support for enabling middle-income households to avail of public housing, thereby increasing the state's ability to repay any borrowings associated with public housing through higher rental streams.
Therefore, the council recommends that the following amendment be made to the motion recommended by the Chief Executive in Report 96/2017
To insert the following sentence at the end of the motion:
"Dublin City Council furthermore commits to exploring fully the possibility, and reporting back to city councillors, on the option of establishing a state company with borrowing capacity which could fulfil the role of "project-company" in the above-outlined PPP initiative, ahead of tendering any non-state/private project company."