So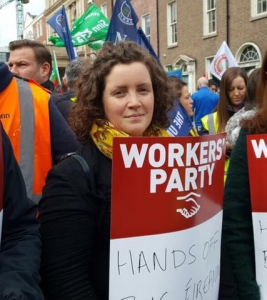 cialist councillors on Dublin City Council will tonight be nominating Workers' Party councillor Éilis Ryan for the position of Lord Mayor. The position is widely expected to be filled by Sinn Féin's Micheál MacDonncha, as part of a "pact" between Labour, the Green Party and Sinn Féin.
Speaking ahead of tonight's vote, Cllr. Éilis Ryan spoke of the damage which the Labour / Sinn Féin alliance has done to housing in Dublin city over the past year, saying:
"Labour Lord Mayor Brendan Carr last year facilitated the overturning of a strong, left plan for mixed income public housing on the O'Devaney Gardens site. The move showed what a difference a Lord Mayor committed to public housing could make for Dublin.
But unfortunately, in spite of their election rhetoric, Sinn Féin have chosen to collaborate closely with Labour and the right wing parties in privatising land and housing in Dublin."
The Workers' Party councillor said that, had Sinn Féin chosen to collaborate with other left councillors, instead of with Labour and the Greens, Dublin could have already begun to tackle its housing crisis. She said:
"One of the few powers city councillors have is to control how the land they own is developed. It's one area where a proper left alliance at city council level could have made a real difference.
The Workers' Party have worked hard to propose solid, workable alternatives to the massive privatisation of housing and land which the Labour/Sinn Féin alliance have overseen in Dublin. I believe a socialist Mayor could do much to further these efforts."