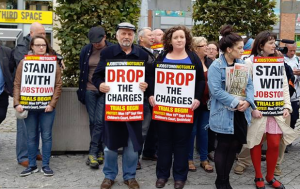 The Director of Public Prosecutions (DPP) has this morning come in for criticism for its attempts to silence peaceful campaigners in the run up to the trial of dozens of Jobstown anti-water charges activists.
Cllr. Éilis Ryan (Workers' Party) criticised the DPP's decision to request a judicial order that Deputy Paul Murphy, one of those on trial, be prevented from speaking at public rallies in the run-up to the trial, saying:
It is offensive to all of us who use protest and street activism to build a better society, that an action as simple as speaking at a public demonstration is being criminalised.

Paul Murphy – and the others on trial – have not been convicted of any crime. The DPP's attempt to attach spurious conditions to their bail terms, including not speaking at demonstrations of solidarity in the lead-up to the trial, is a direct attack on the right to be presumed innocent.
Cllr. Ryan said that the purpose of bail conditions was to ensure that a person awaiting trial did not flee, and did not pose a danger to society, asking:
How could attendance at a public, peaceful event possibly impact negatively on society, or pose a danger to anyone? It is totally inappropriate of the DPP to seek to mute those awaiting trial who are fully entitled to a full presumption of innocence.