The Workers' Party have said that nobody, least of all the government, should be surprised to learn that the JobBridge scheme is fatally flawed and is fundamentally aimed at promoting a low pay economy.
Workers' Party spokesperson Jimmy Dignam said that that "the dogs on the street know that JobBridge is manna from Heaven for miserly employers who have absolutely no interest in taking on paid staff".
Dignam, the party's Dublin North West representative, said this was no surprise because this is exactly what JobBridge was created to do.  "JobBridge was never about giving work experience to young workers or the long-term unemployed.  It always had a two-fold purpose – to cosmetically reduce the dole queues and to provide free taxpayer subsidised labour for employers.  It was always going to be popular with the most unscrupulous of employers and there was never any real inspection regime beyond light-touch spot checks".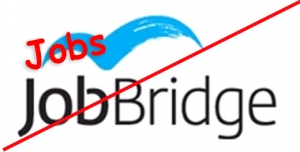 The Workers' Party representative said that changing the name of JobBridge and making minor changes would not do anything to make the scheme less exploitative.  "The bottom line is that the state must engage directly in the creation of real jobs and real opportunities and stop spoon-feeding profligate employers with taxpayers money"
"If the government is serious about creating real opportunities for young workers then it should create a route to long-term sustainable and properly paid jobs where workers will be valued and allowed to reach their full potential" said Dignam.