Local Action – North Inner City
Waste, Litter and Dumping
The Department of the Environment have now issued the criteria to guide which streets are exempt from switching from bag collection to wheelie bins. These are as follows:
No space within the boundary of the property, front, rear or side to store 3 bins. However, as the waste must be stored somewhere, even when it is presented in bags, options should be explored as to whether smaller wheelie bins or other such reusable receptacles could be used in such circumstances. In this regard, if this criterion is used to designate an area, a date should be set for a review of that decision not more than 12 months after that decision, in order to evaluate whether smaller wheelie bins or other such reusable receptacles could be used.
Physical features which make it difficult to move a bin to the front edge of the property or nearest boundary for presentation, e.g. steep gradient and or steps (the advice of a Roads Engineer should be sought) or that would present an unreasonable difficulty.
The area (e.g. street) is too narrow for an RCV to access properties and the nearest Designated Collection Point or suitable presentation point is greater than 100m from the property (again the advice of a Roads Engineer should be sought for advice on this issue).
Greyhound are issuing incorrect information to residents that they are obliged to switch to wheelie bins. I met with Greyhound as a member of the waste sub-committee on Dublin City Council a number of weeks back, and was assured that this practice would cease. Please get in touch if you feel this is not happening. A list of all streets in the inner city where collection in bags is permissible is available here.
The Workers' Party Alternative
I have asked the waste management team in Dublin City Council to add a clause to all waste collectors permits, stating that they are obliged to collect both bags and bins on streets. This is because it appears to me that Greyhound plan to exit the bag collection part of their business – leaving the inner city with a bag collection service. I have furthermore asked that DCC put together a "contingency plan" to ensure they are able to re-establish a bag collection service themselves, if this does happen.
Finally, the Workers' Party believes that this debacle is further evidence of the importance of returning to a public bin collection service. You can read our submission to DCC on waste here and we will be producing a full, costed proposal for a return to public bin collection in the coming months.
Housing and the Future of O'Devaney Gardens

The Housing Land Initiative has been proposed by Dublin City Council to develop housing on land at O'Devaney Gardens, St. Michael's Estate and Oscar Traynor Road. The proposal for O'Devaney Gardens hasn't yet been finalised, but what we know is:
The council intends to subsidise the private development of O'Devaney Gardens by a developer, who will then retain all profits made from housing on the site
There is no guarantee where or what type of social housing will be built on the site itself
There is no clarity about involvement of local residents in how land gets used
A large majority of housing will be private housing (€260,000/house) and private rental (in which the state provides further subsidies to private landlords), making O'Devaney Gardens unaffordable to anyone except the wealthy.
We are working with the Dublin 7 Housing Action Campaign on issues related to the housing crisis. To get involved, contact me or email d7housingaction@gmail.com. We meet on the second and fourth Thursday of every month, in Prussia Street Community Centre.
The Workers' Party Alternative – Solidarity Housing
The Workers' Party favours fully public development of the O'Devaney Gardens lands. To avoid creating a marginalised community, we propose opening public rental to a broader group of people. Our proposal – Solidarity Housing – makes no distinction between housing for those on low, average or above average incomes, preventing stigma and creating a truly integrated community.
Green Space for Stoneybatter

I've been in touch with the council to ask for greater access to the pocket parks around Stoneybatter – in particular Thor Place and Halliday Square. At the moment, the council tell me they can provide any resident with a key for the park. Keys are obtainable by contacting Mountjoy Square Park on 01-8554030. I am looking into opening the parks more regularly, as a pilot summer scheme, from 12-4 each weekend. If you have thoughts on this, please get in touch.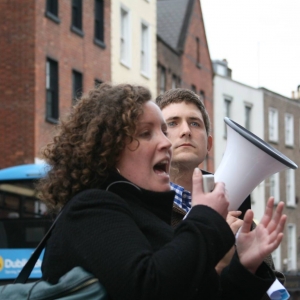 Eilis Ryan – Workers' Party Representative for Dublin North Inner City