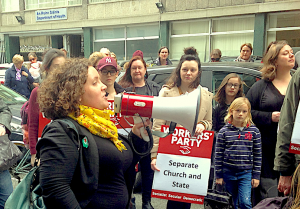 300 people attended a lunchtime demonstration outside the Department of Health today (Thursday). The demonstration, which was called by the Workers' Party, was organised to protest against a government decision that the Sisters of Charity would be the sole owners of the new National Maternity Hospital.
Cllr. Éilis Ryan (Workers' Party) who called the demonstration, said the turnout reflects the anger at the government's decision, saying:
The fact that 300 people took time out of their lunch break to send Simon Harris a message speaks for itself. The issue has crystallised what people have been feeling for a long time – for a supposedly secular republic, Ireland's public services continues to be dominated by a private church.
The demonstration was addressed by Parents for Choice and the Abortion Rights Campaign, as well as activist Denise Kirwan who set up a petition which now has over 60,000 signatures.
Cllr. Ryan said the Workers' Party hoped to consolidate the support into a campaign for the secular republic, saying:
We don't simply need a band-aid for this particular issue. We need a full review to remove church control from all publicly funded healthcare and education, to be replaced by integrated, secular, public services. This is the only way to ensure equality in a diverse, modern republic.