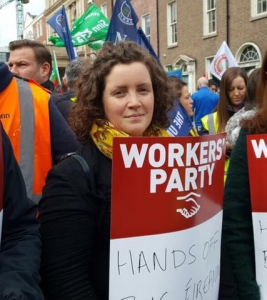 The Workers' Party has said that the government's budget projections prove its intention to continue cutting public service, even as the economy grows.
Cllr. Éilis Ryan (Workers' Party, North Inner City) said:
"The government's Fiscal Outlook, which it published yesterday with the budget, shows that government consumption – i.e. overall spending on public services – will rise by less than €1 billion between 2017 and 2021. At less than 3% growth, this is well below the Government's estimation of 5% inflation at 5%.
"What this means is that, while Minister Donohue is keen to appear to be reversing the recession's horrendous cuts, he is in fact not even allowing our public services to break even. In real terms, as the cost of goods and services grow with the economy, the money he intends to allot to health, education and other services won't be enough to prevent even further cutbacks."
Cllr. Ryan said the figures prove that Fine Gael's cutbacks are ideological – not driven by necessity:
"We keep hearing this myth that the cutbacks happened because of the recession. And now we hear the myth that they are being reversed because the economy is growing.
"But the government does not even intend to spend enough on public services to keep up with inflation. This is further proof that Fine Gael's cutbacks are pure, conservative ideology."
Cllr. Ryan concluded by saying that the budget's fiver-a-week
"Most people, both working and not working, will see a rise of around five euro a week in their take-home income. When compared to rising housing costs and, now it would seem, the government's intention to continue reducing funding for public services, a fiver a week is of little use.
"A fiver a week can't improve the quality of life of someone living homeless in a b&b with their kids, or on a waiting list for years for a hip replacement.
"What can do that is investment in decent public services. Clearly Fine Gael still havent learned that lesson."
ENDS
For information contact Cllr. Éilis Ryan (086) 3108553