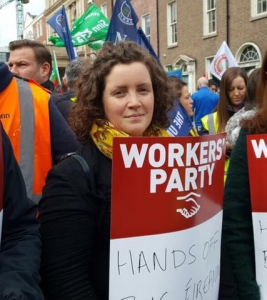 The Workers' Party have called for the state to establish a for-profit public enterprise specialising in research and development in the Artificial Intelligence (AI) sector. The Party were responding to a figures published by TechIreland today (Thursday), which showed up to 66 companies and 2,500 employees operating in Ireland in the AI field.
Cllr. Éilis Ryan (Workers' Party, North Inner City) said the growing industry provided a golden opportunity for the Irish state to move away from its excessive reliance on property and tax breaks, saying:
"The most damaging weakness of the Irish economy is its excessive dependence on property development and, in various forms, tax breaks and low corporation tax rates. If we ever want to escape the boom-bust property-fuelled bubbles of the past decade, we need to start building up large-scale, modern industries which are capable of competing on a global scale.
"The growth figures released by TechIreland show that the Artificial Intelligience sector is ripe for just such public investment."
Cllr. Ryan said that, instead of investing in private companies, it made far better financial sense to use public money to build a state enterprise capable of competing in the AI field, saying:
"To date, public money has flowed into private companies operating in the AI sector. This makes little financial sense. A far better plan would be to invest public money in establishing a competitive, commercial state enterprise which compete at scale with the biggest and best in the world.
"Under such a model, the profits from any such enterprise could be re-invested back into the Irish economy, and into essential public services like housing."
Cllr. Ryan concluded that state enterprises have been proven to help build fair, stable economies elsewhere in Europe:
"Countries like Norway and Finland are far from perfect. But by developing competitive state enterprises they have been able to build secure public services and relatively stable economies which would be the envy of anyone in Ireland."