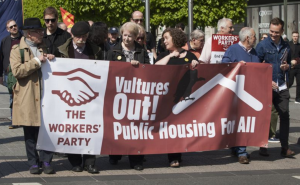 Dublin City Councillor Éilis Ryan (Workers' Party, North Inner City) has this morning (Friday, 3rd November) called for City Council CEO Owen Keegan to resign, in the wake of last night's Prime Time Investigates documentary on standards in the private rental sector.
Commenting on the situation, the Workers' Party councillor said:
"There is absolute clarity that each local authority is responsible for regulation of the private rented sector – meaning that ultimate accountability lies with the CEO, in this instance Owen Keegan.
"There have been numerous instances of serious breaches of rental standards in recent months, and no resulting commitment to increase inspections and sanctions by Dublin City Council. In fact, in advertising the Housing Assistance Payment, one of the 'selling points' used by the council to attract landlords was that there would be 'no immediate checks on private rental standards,' before payments to landlords could commence."
More significant again, according to Ryan, is the way in which the worsening housing crisis is enabling exploitation of tenants:
"Fundamentally, what is perpetuating the ability of landlords to exploit tenants is the scandalous shortage of public housing in Dublin and nationwide.
"In Dublin, this shortage has been driven by an anti-public housing ideology amongst the city's senior executives, including Mr. Keegan."
Cllr. Ryan called for a fund to be established to ensure landlord's paid for an expanded scheme of inspections, and to fund accommodation for tenants who are evicted due to fire safety issues in their current homes. She concluded:
"It is essential that regulation and inspection drives up standards in this sector. And equally, it is essential that any tenant who is forced out of their home because of a fire safety notice, has immediate access to alternative suitable accommodation.
"But it must be landlords – not the state or council – who picks up the tab."