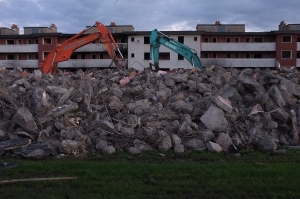 Sinn Féin, Labour and some independents today voted down a proposal from Workers' Party councillor Éilis Ryan to bring into force a ban on all for-profit development on publicly-owned land.
Speaking following the vote, Cllr. Ryan said:
"Why, in the midst of a housing crisis, should a private developer be entitled to make profit by selling unaffordable houses built on publicly-owned land? It is indefensible that Sinn Féin have chosen to vote down a proposal to end this crazy situation.
"It is clear that private market developers have repeatedly damaged our country. That should be enough for us to know that giving them our land can only end badly. If our remaining public land is used for unaffordable, private housing, we may as well say goodbye to ordinary people being able to afford to live inside the M50."
The Workers' Party councillor continued:
"Councillors from Sinn Féin and Labour claimed this is going to delay housing developments such as O'Devaney Gardens. But in reality, not a single home has been built four years on from this initiative being proposed. No developer has yet been selected – so why not simply choose a not-for-profit builder?"
Cllr. Ryan concluded:
"The council owns enough land to build 12,000 homes at a reasonably high density – but we have 20,000 households on our housing waiting list. In that context, it is ludicrous to allow private developers build extortionate housing on public land.
"As things stand, at least half of all homes built on our publicly-owned land will be sold at extortionate market values. There is plenty private land that can be used for this purpose – so why use the council's own land also?
"This motion could have halted that land giveaway in its tracks. It is a great shame it was voted down."
Ends
For information Contact Cllr. Éilis Ryan (086) 3108553
Notes
The Workers' Party motion was proposed to Dublin City Council in 2017, but referred to the housing committee for its consideration. The full text of the motion is as follows:
"Dublin City Council (DCC) recognises the urgency of the housing crisis, with just under 20,000 households now on the City Council's waiting list, and an estimated c650 newly-formed households (net) becoming eligible for social housing each year.
"The City Council furthermore recognises that land is by definition in fixed supply. The Development Plan estimates approximately 440 hectares of land is zoned and available for residential development within the DCC boundaries.
The City Council notes the following in relation to land availability in this area:
DCC estimates (Council Questions, October 2017) that it owns approximately 120 hectares of land. Assuming a density of 100 units per hectare (DCC generally uses a range from 60-120 units / hectare), DCC-owned land could provide 12,000 units if used exclusively for public housing.
This leaves around 320 hectares of land zoned for residential development not owned by DCC. At a density of 100 units per hectare this would yield 32,000 units, delivering around 3,200 units of public housing through Part V requirements.
Accordingly, if all DCC-owned land were used exclusively for public housing, and all non-DCC-owned land were developed and delivered 10% of units as Part V, the public housing output would still approximately 15,200 units. Given this shortfall, the city council adopts the following policy in relation to the land within its boundaries:
– That Dublin City Council institutes an immediate ban on the use of council-owned land for private, for-profit, housing development – whether this is for rent or purchase.
– That Dublin City Council enters into immediate negotiations with all state bodies, semi-state bodies, and NAMA-appointed receivers, who own or control residential land in the Dublin City Council area, in order to increase the required Part V social housing delivery on those sites, with an initial aim of securing the full use of the land for mixed income public housing.