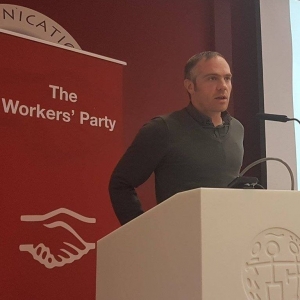 The Workers' Party has condemned the figures on increasing house prices in Dublin have been met with Workers' Party Dublin representative Gavin Mendel-Gleason.
Responding to figures released today (3rd April) by Myhome.ie, Mendel-Gleason said:
The average asking price of a house in Dublin is now €347,000. This is more almost nine times the CSO's estimate of average household income in Dublin, at approximately €39,000.

Back in 2005, at the height of the housing bubble, housing in Dublin was priced at up to 11 times the average workers income. We're not far off that point now – and no measure the government has introduced to date has done anything to stop that.
Mendel-Gleason pointed to the huge disparity between the myhome.ie figures and credit limits, saying:
The last time house prices reached such levels of unaffordability, the gap was made up by offering unaffordable, unrepayable mortgages to workers. By forcing a relaxation of borrowing rules, the government is effectively starting this same process again. This cannot end well for workers.
Mendel-Gleason suggested that the figures demonstrate the need for housing to be taken out of the private market, concluding:
Instead of yet another private property bubble, what we need is an approach similar to that advocated by the Nevin Institute and the Workers' Party, where the state becomes a major landlord offering secure, cost rental public housing to all households.