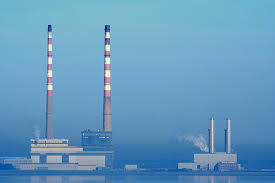 Last night's "uncontrolled explosion" at the Covanta-run Poolbeg incinerator demonstrates the irresponsibility of handing waste management services over to the private sector, according to Cllr. Éilis Ryan of the Workers' Party.
Speaking following the incident, Cllr. Ryan said:
"Covanta have an atrocious safety record, operating in a field which is highly sensitive both in terms of employee safety and environmental protection. Barely a year has gone by the past decade in which Covanta wasn't fined for breaches of employee safety, health hazards of excessive emissions.
"We are setting ourselves up for a generation of chasing Covanta in Dublin to comply with even minimal safety and environmental standards. Is this really the best we can do as a city?"
Cllr. Ryan said that the incident will only compound the fears of those who campaigned against the incinerator, saying:
"From the beginning, it has been clear that this project was about satisfying the interests and profits of a multinational corporation – not about finding the most efficient and environmentally sound method to dispose of our waste.
"The entire city has voiced its opposition to the incinerator. For a significant incident to occur so soon after its opening, would be laughable if it wasn't so serious."
The Workers' Party councillor concluded by calling for waste management and recycling to be taken into full public ownership, saying:
"Private companies are driven by a single objective – making profits. This will never lead to the best outcomes for our environment.
"If we are serious about tackling preserving our environment and reducing waste, the essential first step is to take waste management and recycling into full public ownership – so our policies are driven by the public good, not private greed."