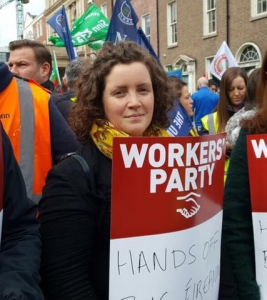 The Workers' Party have slammed the government's continued refusal to take up a stake in Ireland's oil and gas fields, in the wake of Shell's sale to the Canadian state pension fund.
Speaking on the matter, Cllr. Éilis Ryan (Workers' Party) said:
"We are now left in a situation where two thirds of the Corrib gas field is owned by a Canadian state pension fund – investing on behalf of the Canadian people – and a third is owned by Statoil – a company owned principally by the Norwegian government.
"At what point is the government going to give up this old line that public investment in things like oil and gas doesn't work? They appear to be fine with public ownership of our resources – as long as its ownership by foreign governments, not our own."
Cllr. Ryan continued:
"In the UK we see the crazy situation where privatised railways are now being run by French state companies. Here in Ireland, we have privatised mineral reserves owned by Norwegian and Canadian state companies.
"What this shows is that it is more than possible for the state to take a leading role in investing, producing, and building enterprise – so that the dividends are owned and controlled democratically, instead of ending up in the hands of fewer and fewer mega-billionaires."
Cllr. Ryan concluded:
"There are boundless opportunities for the state to start investing in enterprise – recycling and energy for example. Instead our government seems intent on ensuring it gives away every possible profitable activity in Ireland."