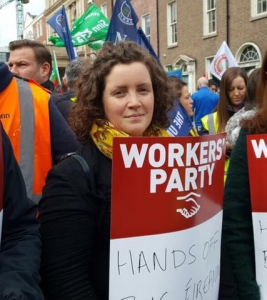 The Workers' Party have condemned the "extraordinary delusion" of the government's Summer Economic Statement, which forecasts strong economic growth while ignoring predictions that homelessness will grow.
Cllr. Éilis Ryan (Workers' Party, North Inner City Dublin), said:
"It is extraordinary to read the government's jubilant forecasts of economic growth of over 4%, when consistent 'economic growth' for five years now has delivered no meaningful improvements in living standards.
Four percent economic growth is meaningless when set against the 20% plus rental increases we are witnessing in the capital. Any growth is being swamped by the continued escalation in housing costs."
The Workers' Party councillor continued:
"It's disturbing that, on the day the government releases its economic forecasts, it will stubbornly ignore a report from NUI, Maynooth that we can expect further growth in homeless numbers.
"It's a case of selecting the statistics that suit the political message, even if this means complete dishonesty about the actual reality of people's lives in Ireland."
Cllr. Ryan concluded by calling for a fundamental shift of economic policy direction:
"The Summer Statement shows we're on course for "more of the same" private sector agenda – Public-Private Partnerships, export-oriented industry, and yet more brass plate multinationals.
"We need a complete change of direction – we need the type of economic growth that will drive down homelessness and housing costs, and drive up wages and public investment in services. As long as we rely on greedy private companies to grow our economy, this will never happen."