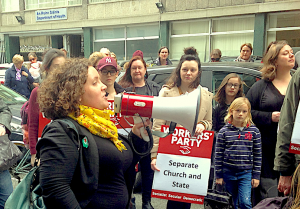 Cllr. Eilis Ryan, Workers' Party Councillor for the North Inner City, said:
Discussions about triple locks and golden shares completely miss the point concerning the National Maternity Hospital debacle. There is simply no need for all these mental contortions. A hospital facility built with public funds which is established as a national institution should simply be under the democratic control of the State.
Cllr. Ryan stated:
It is time to cut out the middle men and women in the provision of healthcare in our so-called republic, the incoming board of the National Maternity Hospital should be simply appointed through a transparent public process which assures those with the best medical, organisational and financial qualifications are appointed to run it.
Cllr. Ryan concluded:
A backroom deal has been done concerning the operation of the National Maternity Hospital. This deal must go. Claims that this might produce a slight delay are an eventuality worth risking if the development of the new National Maternity Hospital marks a watershed in health provision where accountability, efficiency and best medical practice is at last placed above the concerns of interests groups.
ENDS
For further information contact Cllr. Eilis Ryan (086) 3108553