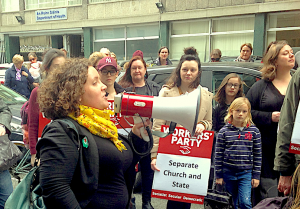 The Workers' Party have called on the government to introduce a mandatory public pension scheme, similar to recommendations made earlier this summer by the Citizens' Assembly, in response to the
Speaking on the matter, Cllr. Éilis Ryan (Workers' Party, North Inner City Dublin) said:
"The utter discrimination imposed on women both by 2012 pension changes, and by historic 'anomalies' in how women's work was treated, are only the most current example of the brewing pensions' crisis Ireland faces.
"Even if the government does find a solution to this particular issue, what it demonstrates is the need for proactive overhaul of pensions generally in Ireland."
Cllr. Ryan said that a mandatory pension scheme would have the dual benefit of providing income security for older people, along with a fund which the state could invest wisely and productively:
"In 2015, some 38,000 elderly experienced deprivation, an increase from the previous year. This is bound to increase as the population ages, and as the effects of an ever-weakening pension system – both private and public – are felt by those who retire in the coming years. A mandatory state pension scheme for all workers and employers is the only solution to this problem.
"Such a scheme would also have the benefit of providing a badly-needed investment fund for public investment. For example, a contribution at 6% of salary would provide the state with €1.6 billion annually in strategic investment. If invested in industrial development, it would lead to 30,000 jobs directly, and many more indirectly by stimulating economic growth."
Cllr. Ryan concluded:
"It is time for Irish governments to end the permanent crisis non-management. It is time for bold, long-term solutions to the country's gravest problems. One of these must be a mandatory state pension scheme to take care of the country's older population in decades to come."