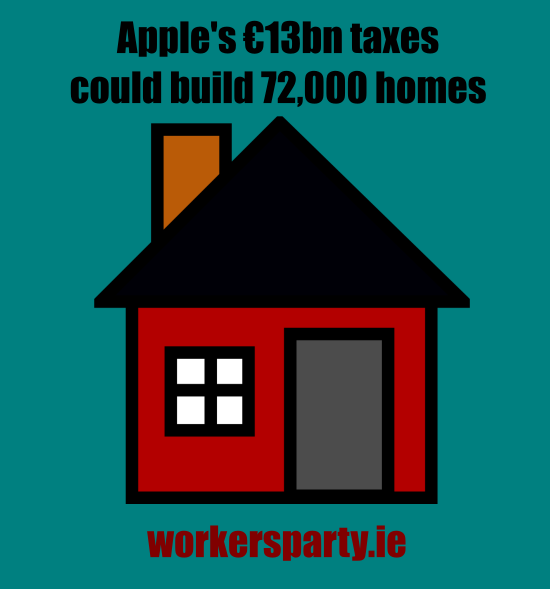 WP says tax windfall must be used for 'public compensation fund' to build public housing
Apple revenue could build 72,000 houses in Ireland  
The Workers' Party has today (30th August) issued a call for the government not to appeal the European Commission's Apple tax decision, but to  establish a 'Public Compensation Fund' with money recouped from Apple's unpaid tax bill.
Cllr. Éilis Ryan (Workers' Party, North Inner City) said that the it was critical to ensure the public are fully compensated for the corporate tax revenue lost because of the Apple deal.
Cllr. Ryan said:
"The money in question is not abstract. It is very real revenue lost over decades. Apple's gain has, quite literally, been paid for by the cutbacks, homelessness and evictions forced on the Irish public."
In July, the Workers' Party successfully passed a Dublin City Council motion for 100% mixed income public housing on O'Devaney Gardens, but the proposal was deemed unworkable by the council's management.
Cllr. Ryan said:
"The Apple windfall would remove any excuses for not implementing our proposals for O'Devaney Gardens. The €13 billion lost by the state to Apple in unpaid tax revenues would be sufficient to halve housing waiting lists if used to build 72,000 houses."
The Workers' Party also called on Ireland's MEPs to publicly endorse European efforts to clamp down on corporate tax avoidance through greater international oversight – something which they have so far failed to do.
Cllr. Ryan said:
"It is of concern to us that Fianna Fáil, Fine Gael and Sinn Féin all voted against the EU's most recent package of anti corporate tax avoidance measures in June.
'Tax sovereignty' is a myth to justify tax minimisation. If our MEPs are serious about tackling cases like Apple, they must begin by accepting the need for global solutions."