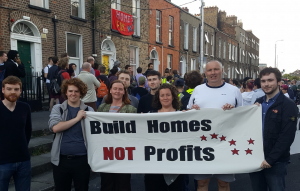 A city councillor has called for Dublin City Council to make extensive use of its powers of compulsory purchase, including in relation to properties on Summerhill Parade currently occupied by housing activists.
Cllr. Éilis Ryan, a Workers' Party councillor in the local area, welcomed the occupation, saying:
"The buildings in question were the site of a series of illegal evictions which took place earlier this year. As far as I am concerned the tenants continue to have a legal right to live there, and activists have every right to protect this.
"It is criminal that buildings can be left empty for months and years, in the middle of a housing crisis."
Cllr. Ryan pointed out that, when a landlord fails to meet basic safety requirements, its tenants who lose, saying:
"If a landlord is found to be renting out unsafe, overcrowded, fire-trap apartments and houses, the only consequence is that he has to empty them. He is not prosecuted, or fined, and often he is never forced to rehouse tenants.
"But the tenants are made to pay – they are forced onto the street, they become homeless, and they never see a penny of the rent that they were paying to a landlord who profitted off endangering their life. This situation has to change."
Cllr. Ryan concluded:
"We need Dublin City Council to make clear that any property which is left vacant will be compulsorily purchased, in the interests of the public good. This is already possible under current legislation, but the Council never do it.
"At a national level, we need new legislation which guarantees that tenants who are renting unsafe homes will be immediately, properly rehoused, and the landlord in question penalised. Otherwise, who in their right mind would ever report their landlord?"