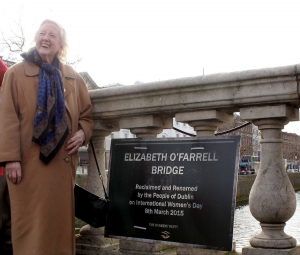 May MacGiolla's lifetime spanned a century of Irish socialist and republican struggle
The death has taken place (last night, Saturday 24th March) of May MacGiolla, long time Workers' Party member and widow of the late Party President, Dublin West TD and Lord Mayor of Dublin Tomás MacGiolla.
May MacGiolla (née McLoughlin) was born in Dublin's East Wall area in 1930 and grew up in the Larkhill area on the city's northside. Her parents were Lawrence (Lar) and Maud McLoughlin, both members of the Irish Citizen Army. Her father was a veteran of the War of Independence and fought on the Republican side in the Civil War before being interned in Mountjoy Jail. Her parents were friends of both Countess Markievicz and Big Jim Larkin.
After leaving school May worked for many years in Cahill's Printers and later worked for Gael Linn after they had established Gael Linn pools as a fundraising venture. In the late 1950s she spent three years in New York in the USA.
May joined the then republican movement in the mid 1940s and was an active member in her local branch of Sinn Féin, as well as being a committee member in the National Commemoration Committee for many years. She met her future husband when he joined the movement in 1951 and married him a decade later, shortly before his election as leader of the then Sinn Féin.
During the 1960s May MacGiolla, along with Tomás, was active in all the social agitations of the era, but especially in the Dublin Housing Action Committee Campaign for decent housing for the thousands of families still living in pre-Victorian slums in our capital city. She was also active in the many fish-ins organised throughout the country by the National Waterways Restoration Campaign aimed at the democratisation of the ownership of our lakes and rivers. She also took part in many anti-war agitations from the anti-Vietnam war agitations of the late 1960s- early 70s to the anti-Iraq war marches of 2003.
May had a particular affinity with the struggle for civil rights in Northern Ireland and participated in many NICRA organised events in the 1968 – 72 period. Up to the time of her death she was an active member of the Save Moore Street campaign and in the campaign to properly honour Nurse Elizabeth O'Farrell for her role in 1916.
May MacGiolla was fully engaged in the process of creating the modern Workers' Party. Along with her husband Tomás, during his many years as party president, she travelled to all parts of the country meeting members and supporters and making many lifelong friends. Up to the time of her death May was an active member of the James Larkin (Ballyfermot) branch of the Party.
Seán Garland, remembering May, said:
"A friend and comrade for over fifty years, we shall remember May MacGiolla, above all for her loyalty and commitment to the principles of Tone and Connolly.
"May was always ready to undertake any task to assist in building the party. She along with her late husband Tomás, leave a huge gap in our ranks. We will remember her, and seek to achieve her ideal, the aim of a socialist republic."
May MacGiolla, who was pre-deceased by her husband Tomás and her brothers, is survived by her sister Carmel, brother-in-law, sister-in law, her nieces and nephews.
Funeral arrangements to be announced later.