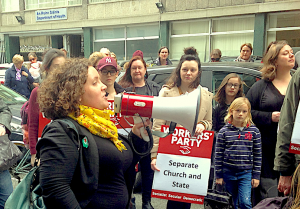 The Workers' Party have called for urgent changes to the current system of deciding school patronage, in the wake of figures showing a 10% rise in pupil numbers in multi-denominational schools.
Speaking on the matter, Cllr. Éilis Ryan (Workers' Party) said:
"It is not unexpected that pupil numbers in multi-denominational schools grew by 10% in just one year. There has been a clear move away from the Catholic Church in many spheres of life, including in education.
"In the short-term, increased demand has been met to a certain point by surveying parents of young kids in an area to determine what type of school there is greatest demand for. Already, this is creating an unfair type of 'competition' between parents with varying preferences when a new school is on the cards."
But Cllr. Ryan warned that this model of attempting to match school ethos to parental preference would be unhelpful in the future, saying:
"This "preference-based" model is bound to fail in the long-term. We have a situation where we are attempting to decide the ethos of new and existing schools based on the current "demand" amongst parents in an area – but as the figures released today show, current demand can change very quickly, and is changing very quickly.
"Preferences amongst parents will inevitably change over time. Are we suggesting that we should revisit demographic surveys and preference assessments over and over again, and change school ethos any time parental preference changes? That is the logical outcome of the government's model."
The Workers' Party councillor concluded:
"A far better model – both administratively and in terms of educational quality – is to establish a single, secular system of education, with the state as patron – like almost every other liberal democracy in the world. This means that all children attending state schools are integrated into one system, avoiding segregation. And it provides a level of stability not possible under the current model.
"Our children's education system deserves better than the crude, free market logic of 'supply and demand."