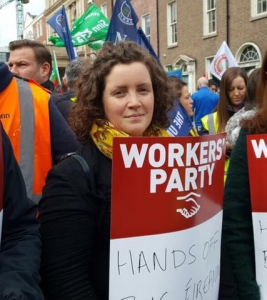 The Workers' Party has said that the scale of voluntary redundancies announced today (Thursday) by Eir, are further proof of the failure of privatisation in the telecoms sector.
Commenting on today's announcement, Workers' Party Cllr. Éilis Ryan said:
"The redundancies at Eir are just further proof that privatisation of Telecom Éireann was only ever about one thing – reducing the quality and number of jobs in the company.
"Eir's workforce today is around 3,000 workers. This is less than a quarter of Telecom Éireann's pre-privatisation workforce. A public utility was privatised for the profit of others, and workers' jobs were decimated as a result."
Cllr. Ryan continued:
"The logic of privatisation is that less and less workers hold employment in secure, public service companies and organisations, some lose their jobs, and more move into less secure, badly-paid work in the private sector. This is precisely what we have seen happen in Eir. Calling redundancies 'voluntary' in no way minimises their impact for workers. For a start, it means 750 less jobs for new workers down the line."
"The particular irony of the decimation of Telecom Éireann / Eir, is that a publicly-owned, public service telecoms company has never been more badly-needed. The roll-out of broadband, for example, has been an unmitigated disaster in a country that claims to be a centre for technological innovation.
The Workers' Party councillor concluded:
"A properly-resourced public service company driven by the common good, not by profit, would surely have done an immeasurably better job. And so, once again, we see that, as workers' rights suffer, the services they provide also deteriorate. The disaster of Eir's privatisation should be sufficient warning to prevent anything similar ever being attempted again in the future.
"Unfortunately, current government policy means that's unlikely to be the case."