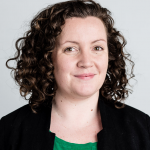 A Freedom on Information request by Workers' Party City Councillor, Eilis Ryan, has revealed that the controversial decision by Dublin City Council to cancel an event about the book "The Question of the 8th" at the recent Dublin International Literary Festival, was based on inaccurate information concerning its organisers.
Email correspondence released to Ryan reveals that Council Officials made a decision to cancel the event, whose scheduled participants included the writer and journalist Úna Mullally, while under the impression it was organised by a campaign group named 'Repeal the 8th.' However, when Council Officials were informed of their mistake in relation to the decision they still failed to reverse it.
Cllr Ryan said:
"It is clear from the information which I have received that, at the point where a decision was made to cancel 'The Question of the 8th,' the city council's CEO and Deputy CEO were working off information that the event was organised by a campaign group named 'Repeal the 8th.'
"This is evident based on email correspondence relating to the legal position of the council, and also a draft, later amended, of the council's explanatory statement for the cancellation, which states "The Event was organised by Repeal the 8th.""
No organisation named 'Repeal the 8th' has ever existed, and the International Literary Festival had clarified as early as 18th April that the event was not organised by any group or campaign.
Cllr. Ryan continued:
"Following the decision being taken, and an explanatory statement being drafted, the International Literary Festival again clarified in a meeting with Dublin City Council on April 25th, that the event was not a Repeal Campaign event. All mention of the 'Repeal the 8th' campaign was then removed from the council's statement.
"However, the decision itself was not revisited at this point. This, to my mind, showed clear lack of oversight on the part of the CEO and Deputy CEO, and an undue bias towards cancelling the event in spite of new information."
Cllr. Ryan called for a full report into how the decision in relation to the cancellation of the event was arrived at, saying that "avoiding such situations in the future is crucial to maintaining a healthy arts sector".
She concluded:
"Mistakes happen, and clearly Dublin City Council were under the mistaken impression that 'The Question of the 8th' event was directly organised by a campaigning group active in the referendum named 'Repeal the 8th.'
"Clearly, this faulty information was material to the Council's decision. I am calling on the CEO to apologise to Úna Mullally and the organisers of the International Literary Festival, whose work was misconstrued, resulting in the cancellation."