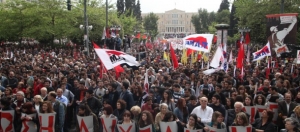 Dear comrades,
The Workers Party of Ireland and the Workers Party Trade Union Group send warm greetings and extend solidarity and congratulations to PAME, the All Workers Militant Front, on the action for a General Strike all over Greece, including more than 50 cities, today, 28th November 2018, under the slogan, "Our Needs in the Frontline – Not the Profits of the Few" and demanding an immediate increase in wages, pensions and social benefits, an increase in minimum salary and the restoration of collective contracts. This action is yet another example of a militant, democratic trade-union front of employees and workers, acting in the interests of the working class and in defence of the rights and achievements of the labour movement against the anti-working class policies of capital, the Greek government and the European Union.
We also extend congratulations and solidarity to those workers who participated in the strike of 14th November 2018 and to the thousands of pensioners who marched on 20th November 2018, demanding a return of the pensions which have been decimated in recent years and for increases in the level of pensions.
We remember the night of 17th November 1973 when tanks were used against the protesting students and workers involved in the uprising against the military junta at the Polytechnic School in Athens. At least 56 people were killed and more than 1,000 were injured. The military regime arrested 2,500 people. Although the revolt had been suppressed in blood, opposition to the regime grew and eight months later (24th July 1974) the dictatorship collapsed.
We salute PAME and the class unions of Greece who this month honoured the 45th anniversary of the uprising and laid wreaths at the Polytechnic building.
The WPI and Irish workers extend their solidarity to PAME, to the class-oriented labour and trade union movement. The future for working people cannot be secured under the failed capitalist system. This can only be guaranteed through workers' power and socialism.
Gerry Grainger
International Secretary
Lily Kerr
Trade Union Group
Workers Party of Ireland
28th November 2018