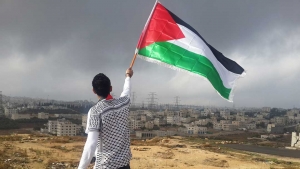 The Workers Party of Ireland has condemned last week's decision by the Israeli Knesset to pass the sectarian and racist law that defines Israel as the national homeland of the Jewish people and which asserts that "the realisation of the right to national self-determination in Israel is unique to the Jewish people", declaring, in effect, that only Jews have the right of self-determination. This law also incorporates provisions stating that a "united Jerusalem" is the capital of Israel, that Hebrew is the country's official language and that "the (Israeli) state sees the development of Jewish settlement as a national value and will act to encourage and promote its establishment and consolidation."
Workers Party International Secretary, Gerry Grainger, condemning this recent event as "an outrageous provocation", stated: "After the declaration of the State of Israel in 1948 the Zionists seized 80% of Palestine and the property of a million Palestinian refugees was plundered and stolen. Two thirds of the entire Palestinian population were expelled from their homes in the Nakba. This recent development is a continuation of Israel's systematic colonisation and usurpation of Palestinian land, the eviction of Palestinians, the destruction of their homes and properties and the attempt to erase the name, history and culture of Palestine."
This recent provocation takes place in the context of Israel's premeditated murderous attacks on Palestinian civilians during the recent protests, the commencement of the demolition of the village of Khan al-Ahmar in the occupied West Bank in early July in Israel's determination to sweep aside Palestinian families and livelihoods in order to make way for Jewish-only settlements and the dozens of airstrikes against Gaza in recent days.
Israel has also refused to co-operate with the inquiry called for by the United Nations Human Rights Council into the recent violence on the border with Gaza and has "banned" members and officers of 20 global human rights organisations from entering Israel or the Occupied Territories. Israel is also seeking to prevent contact between Palestinian civil society, unions and other organisations, and their counterparts abroad as part of an attempt to isolate Palestinians from the outside world and to prevent the outside world from witnessing Israel's brutal violations of Palestinian rights.
Israeli Prime Minister Benjamin Netanyahu has said the next Eurovision song contest will be held in Jerusalem. This is a further attempt by this racist Zionist state to normalise Israel's continuous and systematic violations of human rights.
Workers Party Councillor, Éilis Ryan, has condemned the Knesset decision and welcomed the Control of Economic Activity (Occupied Territories) Bill which recently passed through the Irish Parliament's upper house (the Seanad) as a step closer towards banning Israeli products which are produced in the occupied Palestinian territories.
The Workers Party supports the boycott of Israeli goods, events and institutions and condemns the overt and covert racism against Palestinians by the Zionist state. Our Party stands with the Palestinian people in their struggle for their legitimate rights, including the right to self-determination and the establishment of a free, independent and sovereign state of Palestine with Jerusalem as its capital.