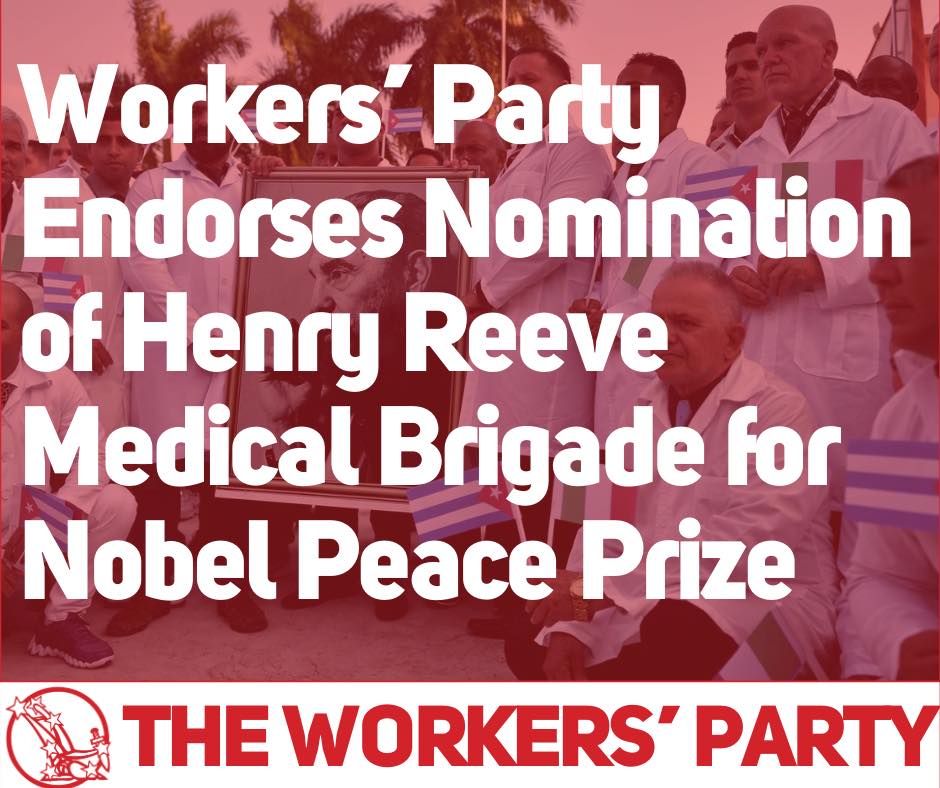 3 October 2020

The Central Executive Committee of the Workers' Party of Ireland, at its meeting of Saturday 3rd October 2020, unanimously and enthusiastically endorsed the nomination of Cuba's Henry Reeve Medical Brigade for the Nobel Peace Prize of 2021.
In a statement, the Workers' Party of Ireland declared: "This is a time of great challenges for humanity and, thus, a time when there is an urgent need for international solidarity. Already Covid-19 has led to the death of 1,000,000 people and has left untold numbers who have recovered from its life-threatening symptoms with very serious on-going health issues. Thus, the Covid-19 pandemic is yet another instance of how international solidarity is vital in the promotion of a just peace and the alleviation of people's suffering during emergencies. One of the most outstanding examples of such international solidarity is demonstrated in the work of the Cuban Henry Reeve Medical Brigade.
The Cuban medical profession has a long and distinguished record of international humanitarian activity and emergency medical intervention. The Henry Reeve Brigade, which is named in honour of a young US activist who decided to join Cuba's Liberation Army in solidarity with the Cuban's struggle for independence, was launched in 2005. Since its creation about 71 brigades, consisting of more than 9,000 professionals, have travelled to 45 countries, working to surmount the effects of 16 floods, eight hurricanes, eight earthquakes and four epidemics.
The Henry Reeve Brigade is the most modern manifestation of a 60-year Cuban dedication to bring medical assistance and humanitarian care to other peoples and countries. This tradition is being maintained even in the face of continuing illegal and brutal US-led sanctions against the people of Cuba which are creating serious economic challenges for the Island and imposing grave hardships on the Cuban people. Still, Cubans have overcome this barrier to show the world how best to build peace and bridge, so that other peoples may have the chance to overcome their own challenges and not lose their lives before they accomplish that. The Cuban brigades have worked in countries such as Peru, in the aftermath of the 1970 devastating earthquake that killed 80,000 people and displaced thousands of families (note that Cuba and Peru did not have diplomatic relations and still, the former has sent assistance); in Haiti, during the cholera crisis; in various African countries fighting Ebola; and Latin America and the Caribbean, with a wide range of programmes that helped thousands of people.
Since the outbreak of Covid-19, the Henry Reeve Brigade have been dispatched to several countries, including Italy which, in March 2020, was amongst the hardest hit by the outbreak. The brigades were requested by the governments of countries such as Venezuela, Nicaragua, Italy, Suriname, Jamaica, Granada, Andorra, Saint Kitts and Nevis, Haiti, Dominica, Belize, Saint Vincent and the Grenadines, Saint Lucia, and Antigua and Barbuda.
Presently, there are 14 such brigades working with over 500 specialised doctors and other health-care professionals. These brave men and women have been bringing much needed assistance to peoples in countries across all continents, saving countless lives and showing the empathy and kindness for which they are famous. This work is key in building peace amidst violent and structural conflicts and in setting conditions for people to have their most basic needs met in conditions of disaster and extreme impoverishment. For this principled commitment to peace and solidarity turned into concrete, verifiable action, hence, the brigades are more than qualified for the Nobel Peace Prize.
For that reason, The Workers' Party of Ireland is honoured to join countless other organisations, parliamentarians, and diverse peace-loving-people in endorsing the nomination of the Henry Reeve contingent for the Nobel Peace Prize.

Michael Donnelly
President

Gavin Mendel-Gleason
International Secretary.