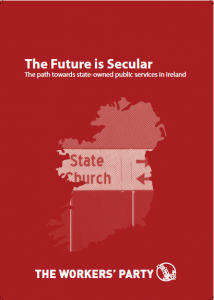 WP calls for public ownership of health and education assets
The Workers' Party yesterday (Thursday) held the Waterford launch of a new policy document, The Future is Secular charting a path towards state-owned public services.
As well as an analysis of the ownership of both education and health assets, the document proposes a process of divestment which would ensure that the state owns and controls the assets used to deliver public services. The measures proposed include Compulsory Purchase Orders with compensation based on current land zoning.
Speaking after the meeting, Workers' Party spokesperson in Waterford, Dean McGrath, said:
"If we look the at the trajectory of healthcare and education over the past number of decades, it is clear that a major, unaddressed factor hindering the state's ability to enhance secular service provision has been the ongoing religious ownership of schools and hospitals – sometimes through opaque and unaccountable networks of companies established for that purpose. "
McGrath continued:
"In the case of hospitals, we have detailed how companies controlled by religious order receive not only HSE funding, but also infrastructural grants towards infrastructure which those companies then own."
"This model of funding is both undemocratic and inefficient, and militates against public control of our public services".
McGrath concluded that Waterford has seen how crucial ownership of buildings and land is to providing secular services, saying:
"In Tramore, the local Educate Together school was left without a premises because of the refusal of Sisters of Charity to allow a former school, now vacant, be used as a new, multi-denominational school. The only way to avoid a repetition of such occurrences is for the government to take full, compulsory ownership of all buildings used to provide publicly-funded education and healthcare. That's what Waterford needs."