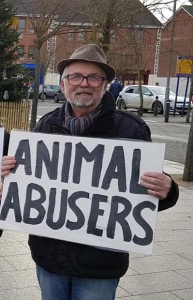 The Workers' Party have called for proper enforcement of laws in place to ban organised stag hunting, following the a 'mock' hunt carried out by the Ward Union Hunt which took place in Ashbourne on St. Stephen's Day.
Séamus McDonagh, Workers' Party representative in Co. Meath and long-time animal rights activist, said:
"In 2010, an amendment to the Animal Welfare Bill was put in place specifically to tackle the Ward Union's continued use of packs of dogs to hunt tame deer bred and released specifically to be hunted for sport. And yet significant evidence exists that the Hunt in Meath continues to use this very practice.
"I joined a large protest to monitor the activity of the so-called 'mock' hunt on St. Stephen's Day, because of this evidence. It is extremely disappointing that volunteer activists are left with the task of monitoring and documenting the non-compliance of the hunt groups with this legislation, rather than our government taking steps to do this.
McDonagh continued:
"Since the early 1990s, successive reports from the Department of Agriculture have recognised that stag hunting, including in particular the Ward Union Hunt, are 'inhumane.' Veterinary inspectors working for the Department have testified to the extent of distress and pain which the cruel methods used in the hunt cause to the stag.
"This is not a traditional practice in Ireland. It was imported by British imperial forces. And regardless of its origins, like many historic practices, it is barbaric and should be done away with."
McDonagh concluded:
"Almost every European country has introduced a full ban on cruel bloodsports such as hare coursing, fox hunting and stag hunting, in particular with dogs. Ireland, disgracefully, still lags behind, and Meath is one of the worst offenders. I am calling on our local TDs, and national government, to take steps to enforce the legislation introduced to ban the hunting of stags and foxes using dogs.
"This should include the withdrawal by the Department of Agriculture of the Hunt's licence for livestock carcass disposal, which provides a source of revenue for the hunt, until it is fully compliant with the new legislation."