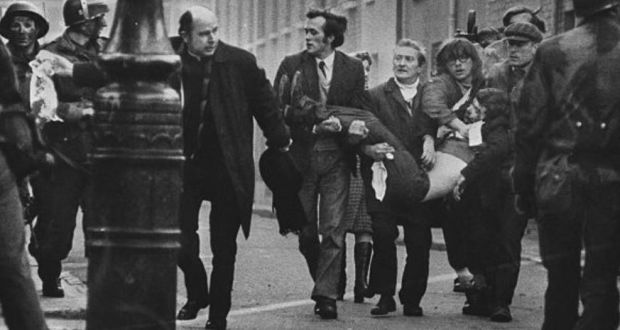 The Workers' Party have called for the full investigation and prosecution of senior army figures who were in control of the Bloody Sunday massacre. The call comes following the announcement this morning (Thursday) that one British paratrooper is to be prosecuted for his role on Bloody Sunday.

Marian Donnelly, former Workers' Party President, was a founding member of NICRA, and present at the march at which the massacre occurred.

Donnelly said:
"First of all, today's announcement is a vindication of the campaign which has been run for several decades by the families of those killed on Bloody Sunday. Their perseverance and dedication was needed in the face of many who wanted – and continue to want – to bury the truth.

"What we witnessed in 1972 was nothing short of cold-blooded, unprovoked murder. That it has taken almost half a century for us to even begin to get justice speaks volumes.

She continued:
"The families have also made clear that justice will require more than just one prosecution.

"For my part, I believe that the most important next step is for a full investigation to be carried out into the role of the senior army officials involved in the Bloody Sunday operation. It is not good enough that the foot soldiers taking orders are the only ones being held to account. Justice requires that we acknowledge the clear directions those soldiers were given by very senior members of the British army."

Donnelly concluded:
"I want to once again congratulate the families of the victims of Bloody Sunday, for their brave and unyielding campaign for justice. It is absolutely clear that, without it, the truth about what happened on Bloody Sunday would have remained hidden for good."