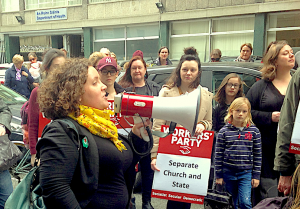 The Workers' Party has called for the publication of the minutes of the Holles Street 'Executive Committee' board ahead of any further decisions on the National Maternity Hospital (NMH).
Speaking ahead of a meeting of the Executive Committee this evening (Wednesday), Cllr. Éilis Ryan (Workers' Party) said:
As recently as April 2016, the Executive Committee of Holles Street – which is effectively the board of the hospital – expressed "strong concerns" regarding proposals that the new National Maternity Hospital would be wholly incorporated into the St. Vincent's Healthcare Group.

The minutes of the board's April 2016 meeting indicate the Holles Street board was highly concerned by the proposal that the NMH would become 'effectively a division of SVUHG.' While a number of other concerns were resolved through a mediation process, clearly this indicates that the issue of ownership did trouble the board as recently as last April.
Cllr. Ryan called for the minutes of the following Board meetings to be published, in order to clarify how and why this position changed, saying:
It is not good enough that our new National Maternity Hospital be simply a 'least worst option.' Regardless of progress made on some issues, we do not yet have the full information relating to what compromises were made by Holles Street in the lead up to an agreement being signed.

These are two state-funded hospitals that are operating as autonomous bodies. This is not appropriate. At this point, we need full transparency on which concessions were forced by St. Vincent's, not just simplistic assurances.