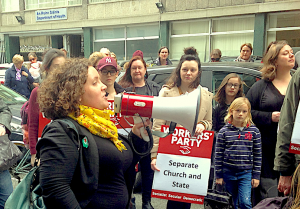 The Workers' Party have said that Minister for Education Richard Bruton's proposal to encourage 'homemakers' to retrain as secondary school teachers wilfully ignores the obvious causes why young people might not choose teaching as a career.
Speaking following the Minister's comments today (Friday) at the annual conference of the National Association of Principals and Deputy Principals, Cllr. Éilis Ryan (Workers' Party) said:
"In a country which claims to provide 'free' third level education, it costs an astronomical €12,000 in postgraduate fees alone to qualify as a secondary school teacher.
"When you add to this a minimum of €12,000 a year in living expenses, a student wishing to become a secondary school teacher would need close to €40,000 in cash just to qualify. This is exacerbated by the fact that postgraduate fees do not qualify for maintenance grants, and the work experience element of teacher training in this country is unpaid."
Cllr. Ryan said that teaching was effectively becoming yet another profession which only the most privileged could afford to enter, saying:
"Most students leave their undergraduate studies with significant debt or, at best, having used up whatever financing their parents could afford to give them.
"Almost none would be able to afford the €50,000 required to then go on to train in secondary teaching."
Cllr. Ryan said that enabling young people to enter the teaching profession would be a far better use of the state's resources than Minister Bruton's proposed retraining scheme, saying:
"The combination of prohibitive fees, and a two-tier pay system which discriminates against young teachers who do qualify, means the majority of people who might like to become teachers simply cannot afford to.
"Perhaps the Minister should look at the obvious causes first, before introducing mad-hat schemes."