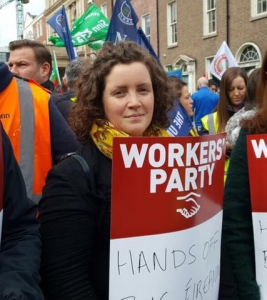 Outgoing Minister for Finance Michael Noonan's real legacy will be the control of Irish property, homes and economy by vulture funds, according to Workers' Party councillor Éilis Ryan.
Speaking following Minister Noonan's announcement of his retirement today (Thursday), Cllr. Ryan said:
Michael Noonan has presided over the fire sale of our economy to some of the world's most brutally exploitative investment funds. This was not be accident, but by intention and design.
Cllr. Ryan referenced comments made by Michael Noonan in 2016 that stated that, like vultures in the wild, vulture funds served "an important part of the ecology" by cleaning up dying carcasses.
Cllr. Ryan continued:
It was Minister Noonan's view that the collapse of the Irish economy – homeowners underwater because of banks reckless lending, the collapse of entire industries, escalating emigration – was a 'carcass' to be cleared up.

This is precisely what he allowed to happen. Instead of attempting to rebuild secure housing and jobs in Ireland, Minister Noonan enlisted the vultures to refuel yet another property bubble.
She concluded:
He viewed the crisis as an opportunity for the vultures to feed off people's pain during the recession. No doubt whoever succeeds him will continue with this same philosophy.