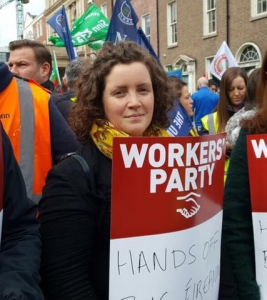 Calls for mandatory scheme of vaccinations for school-going children to stem whooping cough, measles outbreaks
The Workers' Party has issued a proposal calling for the introduction of a mandatory scheme of vaccination for all children who use shared childcare and education schemes, including créches, play facilities, and public and private schools. The call comes in the wake of an outbreak of new measles cases in Dublin in recent weeks.
Proposing the scheme, Cllr. Éilis Ryan of the Workers' Party said:
"It is important that we not understate the severity of the situation we face in Dublin. Just yesterday (Tuesday) we heard a baby died in the midlands from Whooping Cough. Meanwhile, there have been 17 confirmed cases of measles in recent weeks, with the majority in Dublin. The last outbreak, in 2016, rose to 40 cases, with a fifth of these being children who were too young to be vaccinated.
"Its time our government realised that the non-mandatory vaccination in Ireland has failed as a policy, and move quickly towards a mandatory scheme before an anti-vaccination culture takes greater hold."
Cllr. Ryan continued:
"Recent years have seen an escalation of non-factual scaremongering about supposed dangers associated with vaccinations. Even before this, however, Ireland has never reached World Health Organisation- (WHO)- recommended levels of coverage, hovering at around 90% for a number of years at this point. In line with WHO estimations, this has proved insufficient to protect the Irish population as a whole – and in particular young babies.
The Workers' Party have suggested the introduction of provisions which would prevent unvaccinated young people from sharing spaces with other children.
Cllr. Ryan concluded:
"We need a sharp step change in relation to how we approach vaccinations in Ireland, or we are setting ourselves up for an escalation in outbreaks of dangerous – and entirely preventable – diseases such as Measles.
"It is common in many countries in Europe, Australia and globally, that only vaccinated children are permitted to attend educational or childcare facilities. This should be instituted with immediate effect, in order to bump Ireland rapidly up to WHO-recommended compliance rates, and prevent an even more deadly outbreak of preventable disease next year."