Rapid expansion of emergency measures required to switch Ireland from Italy to China trajectory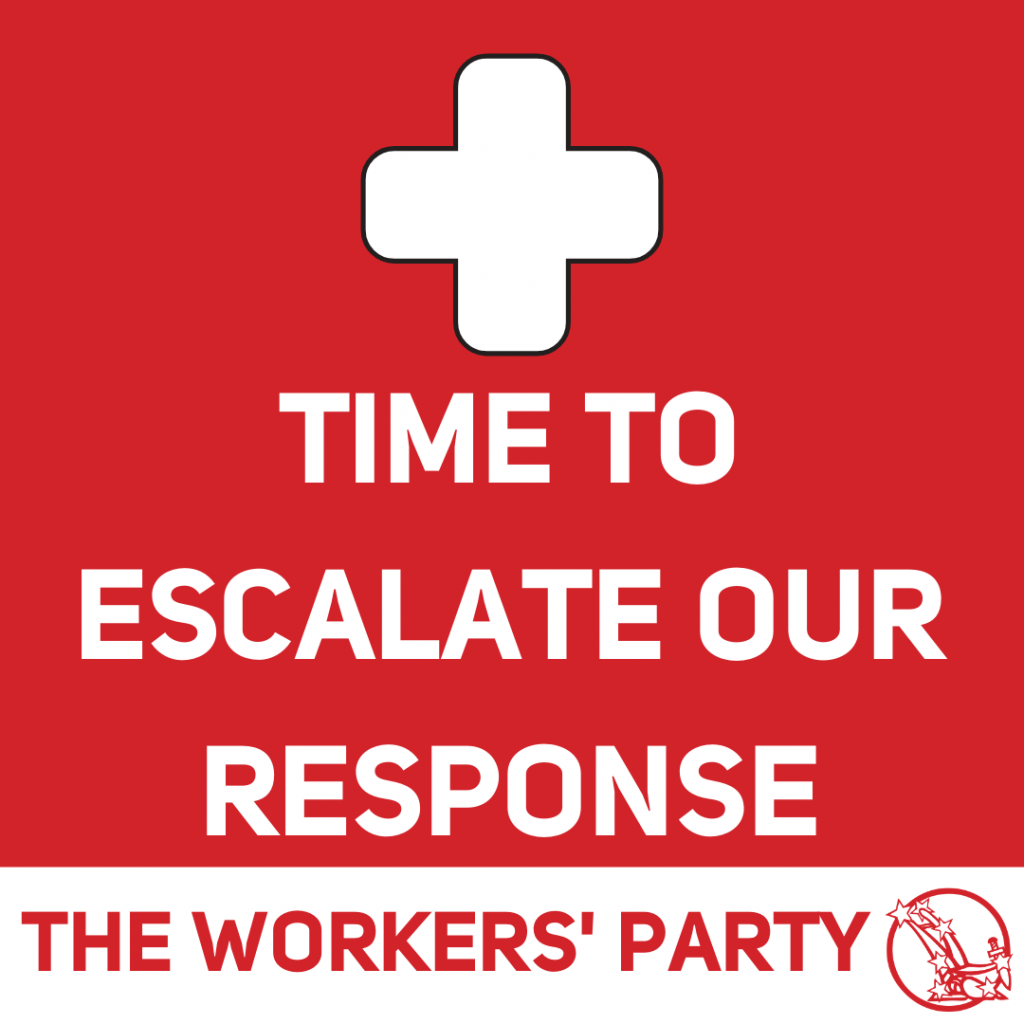 From statistics released to date, and taking into account the types of preventive measures adopted in Ireland to date, and the state of our health system, it is clear at this point that Ireland is on a track more similar to Italy than China, in terms of the COVID-19 outbreak.  

The number of people infected on average appears to double with each day of inaction. This means that, for each day that selfish people are allowed to opt for the pub, or greedy clothes retailers are allowed to bring workers to work, we are doubling the amount of cases our health system has to deal with.

With that in mind, the Workers' Party are proposing the rapid expansion of sweeping emergency measures to move Ireland's coronavirus trajectory from the curve Italy is following, to that achieved by China.  These have the capacity to dramatically reduce Ireland's infection rate. 

In relation to Northern Ireland, the convening, as a matter of urgency, of an all-Ireland body with responsibility to take coordinated action on the island of Ireland. This should follow the example of protocols adopted during the foot & mouth outbreak.

An immediate cessation of all travel into the island of Ireland which isn't required for the import or export of essential medical and food supplies, or travel related to the containment of the virus.

In relation to maximising social distancing;
The significant number of vacant hotel rooms and Air B'n'B properties should be immediately requisitioned, and those which are not required for healthcare offered to adults living in overcrowded shared accommodation, as a means to enable them to preserve social distance. Across Dublin, adults, in particular low-paid migrant workers, are living four people to a bedroom. This is the antithesis of social distancing.
The closure of all non-essential retail and leisure businesses.
The immediate adoption of legally-enforceable guidelines on non-essential social interaction, limiting all interactions to groups of less than 10, following the Austrian example. 
In relation to governance;
The establishment of a standalone Minister with responsibility for securing supply chains, tasked with overseeing the consistent supply of essential medical, food and other essential goods, using any means necessary; 
The nationalisation of Irish Ferries, and the provision of state aid to Aer Lingus with measures to increase state oversight attached, to secure Ireland's links to the rest of the world in years to come. Were these companies to collapse, Ireland would be left at the mercy of Ryanair. 
We recognise the profound economic impact these actions will have. As a result we are proposing a series of economic measures to compensate for this. However, it is essential that economic aid is used not to prop up business profits, but to uphold the wellbeing of ordinary workers and families. With this in mind, we are proposing an emergency economic package to include: 
An immediate freeze in all mortgage and rent payments to free up money needed elsewhere. Landlords who refuse to comply should have their properties taken into state ownership. It is socially damaging for huge sums of money to simply prop up landlords' bank accounts at a time like this.  
The introduction of emergency legislation mandating sick pay schemes for all workers.
The issuance of a generous worker support fund, to bring all incomes up to a living wage of €450 / week.
The rapid expansion of the medical supplies industry in Ireland, for both domestic supply and export. This should include direction to private companies to switch to production of essential goods and, if they fail to comply, the compulsory acquisition of these companies. The state should also request and, if necessary, revoke the monopoly on, all essential medical supplies. 
The state should undertake rapid retraining of unemployed workers to staff expanded medical supplies factories. 
To fund the above, the immediate  reversal of  the  state's  challenge to the Apple tax ruling. 
At a fundamental level, what we are proposing is that the state – which has been decimated by the neoliberal project – be granted new and far-reaching powers across many facets of life, including the economy. This is essential to co-ordinating a best practice response to the virus. 

It is simply not sufficient to encourage best practice by corporate actors, who have shown themselves only to be motivated by profit. In the housing crisis to date, that approach has resulted in 4,000 homeless children in this country. We cannot put the fate of our country in their hands.
An Ard Comhairle, The Workers' Party, 18th March 2020